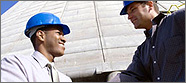 At LDIS
our ojective is to offer high quality design with the alternative and benefit of an arrangement that will fit each of your project needs.
We are accessible and reliable when you need us. When it is essential to you and your company, LDIS offers a broad range of design work in the disciplines of piping, structural, and electrical. We offer extensive field experience, Walk downs, as builts and installation requirements. We are licensed, insured and provide quality work with the latest versions of AutoCAD and CadWorx.
LDIS can provide quality designers while offering our clients the flexibility of utilizing us on an as needed basis.
| | |
| --- | --- |
| | Additional Services |
| | In house support for meetings, deadlines or strategic planning, project kick off, etc. |
| | Rates billed to you hourly or we can offer a project proposal on a lump sum basis. |
| | LDIS experience includes but is not limited to; compressor stations, pipelines, block mounted, skid mounted and offshore facilities. |
| | |
5620 Ward Road, Unit 200
Arvada, CO, 80002
E -mail:
bschwenk@ldisllc.com
Phone: +1 303-953-5333
Fax: +1 303-953-5335